The Mosfell Archaeological Project is conducted in a collaborative, international way under the direction of Prof. Jesse L. Byock of the University of California at Los Angeles (UCLA).
This international group works in close collaboration with members of the local town of Mosfellsbær as well as with The National Museum of Iceland, University of Iceland, and other Icelandic and international researchers. Our Leirvogur Harbour Research Project is conducted in cooperation with ZBSA, please visit our Harbour Project homepage for more information.
We have received valuable logistic and financial support from our Universities, The Icelandic Centre for Research – RANNIS, The Arcadia Foundation, The German Research Foundation (DFG), The Icelandic Ministry of Science, Culture and Education, The Norwegian Ministry of Culture, The U.S. Embassy in Iceland, The U.S. National Science Foundation (NSF), John Simon Guggenheim Foundation, the Fulbright Foundation, Centre for Baltic and Scandinavian Archaeology (ZBSA), Icelandair, The Icelandic Aeronautical Institute, Norvik, Landsvirkjun and the town of Mosfellsbær.
Prof. Jesse L. Byock, Principal Investigator
Dr. Davide Zori, Field Director, University of California Los Angeles
Sigrid Cecilie Juel Hansen, Projects Manager, University of Iceland
Prof. Per Holck, MD, University of Oslo
Prof. Jon Erlandson, University of Oregon
Magnús Sigurgeirsson, Geologist, Iceland
Prof. Helgi Þorláksson, University of Iceland
Dr. Egill Erlendsson, University of Iceland
Dr. Sven Kalmring, Centre for Baltic and Scandinavian Archaeology (ZBSA)
Prof. Vaughan Grimes, Memorial University
Dr. Alan Miller, St. Andrews University
Bjarki Bjarnason, Researcher, Iceland
Magnús Guðmundsson, University of Iceland
Prof. Jacqueline Eng, Western Michigan University
Dr. Rhonda Bathurst, University of Western Ontario
Prof. Karen Milek, University of Aberdeen
Elín Hreiđarsdóttir, Institute of Archaeology, Iceland
Dr. Steve Martin, UCLA
Prof. David Scott, UCLA
Max Farrar, Surveyor and Mapmaker
Stanislav Parfenov, GIS Professional
Guđrún Jóna þráinsdóttir, University of Iceland
Margrét Hallmundsdóttir, Árnessýsla Folk Museum
Grétar Markússon, Architect
Stefán Örn Stefánsson, Architect
Prof. Robert Wayne, UCLA
Prof. Kevin Edwards, University of Aberdeen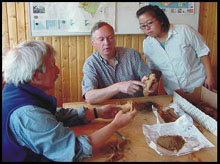 Phillip Walker, Per Holck, and Jacqueline Eng examing skeletal material from Hrísbrú.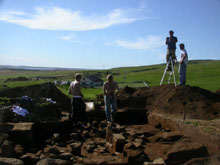 Photographing the church excavations at Hrísbrú.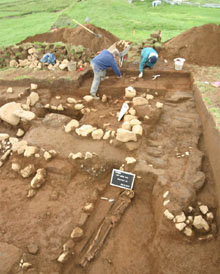 Excavating the churchyard at Hrísbrú.