Archaeological Field Work | 2001 Field Season - Hrísbrú Burial Ground
The 2001 field season had many exciting results. Excavations at Hrísbrú to locate the conversion period church and cemetery mentioned in Egil's Saga revealed the remains of a building surrounded by a graveyard where the church reportedly stood.
This building is constructed with turfs containing Landnám period volcanic ash and is almost certainly the church to which Egil's remains are said to have been moved from his original pagan burial place at Tjaldanes.
Test excavations on a distant knoll to the west of the church called Hulduhóll (Elvin Hill) revealed the first traces of a Viking Age cremation grave.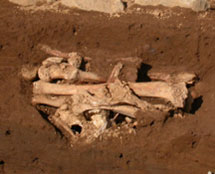 A set of reburied human bones in the Hrísbrú churchyard where Egil's bones are said to have been reburied.